Specifications
For a PDF, click the image above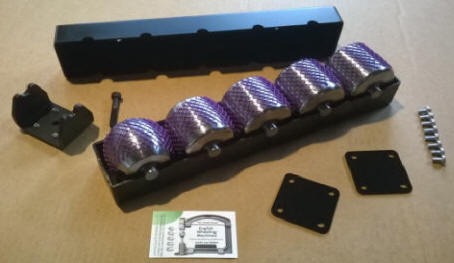 This sturdy machine is cast in a good old-fashioned foundry in Stoke-on-Trent, which is one of only a few capable of the required substantial sustained pour from the crucible in order to produce the stiff ribbed frame needed with a 600mm deep throat for these machines. Featuring a useful working throat depth of 24 inches (610mm), it has a large 7.8 inch (200mm) diameter top anvil cut from a huge chunk of EN16 machine steel, it's 2.75 inch (70mm) wide face is scalloped out on each face to reduce inertia, and aid hand movement, for those tight corners. Five lower anvils are supplied 2.75 inch (70mm) with the machine. All are precision CNC cut from machine steel, from an almost flat, to a very tight curve, and come with a tray for easy access to the desired profile.
These are;
· R400 (15.7") with a contact area or blow width of 12.0mm
· R300 (11.8") with blow width of 8.5mm
· R200 (7.8") with blow width of 7.2mm
· R100 (3.9") with blow width of 6.35mm
· R50 (1.9") with blow width of 4.0mm
This machine features a unique adjustable anvil cradle, allowing perfect alignment of the contact patch or blow, reducing panel marks, allowing good stretch overlaps, while reducing the need for any further planishing.